Plate dryer introduction
PLG series continuous plate dryer is a kind of high efficiency conducting and continuous drying equipment. Its unique structure and operating principle provide advantages of high heat efficiency , low energy consumption, less occupying area, simple configuration, easy operation and control as well as good operating environment etc. It is widely used in drying process in the flelds of chemical, pharmaceuticals, agricultural chemicals, foodstuff, fodder,process of agricultural and by-products etc., and is well received by various industries. Now there are three big categories, normal pressure, c losed and vacuum styles and four s pecifications of 1200, 1500, 2200 and 2500; and three kinds of constructions A (carbon steel), B (stainless steel for contact parts) and C (on the basis of B to add stainless steel for s team pipes, main shaft and support, and stainless steel linings for cylinder body and top cover).With a drying area of 4 to 180 square meters, now we have hundreds of models of s eries products and various kinds of auxiliary devices available to meet requirements of various products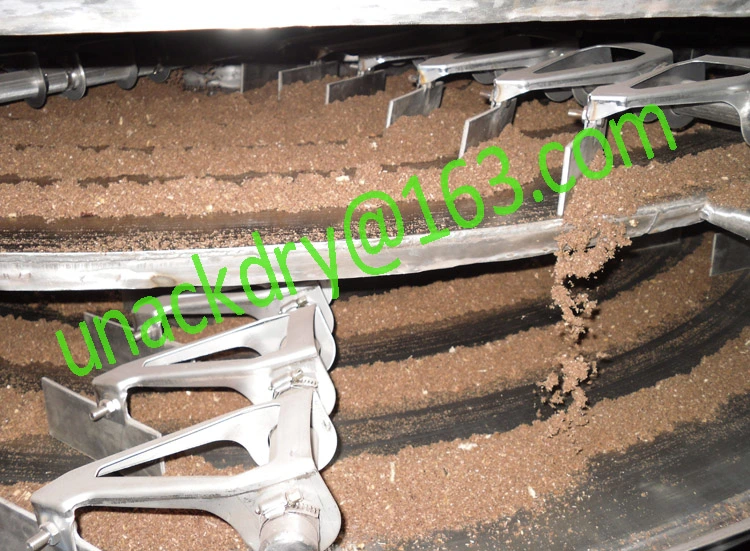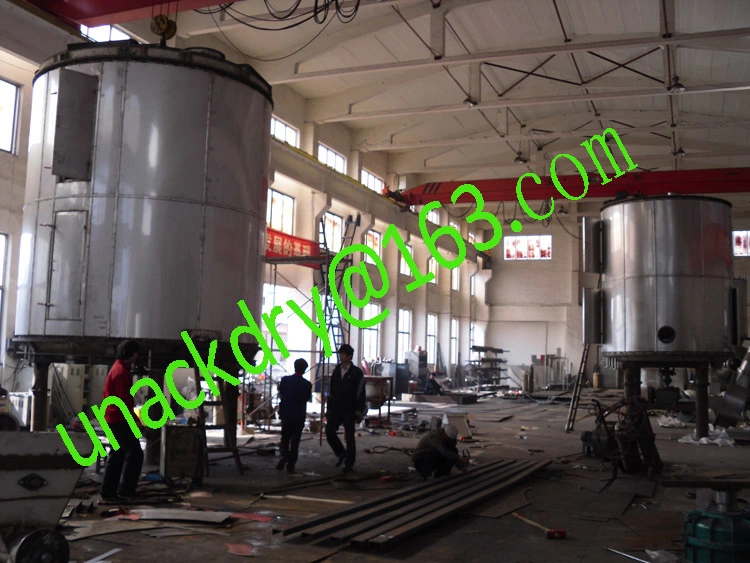 Working Principle
Wet materials are fed continuously to the top drying layer in the dryer . They will be turned and stirred continuously by harrows when the harrows arm rotates, the material flows through the surface of the drying plate along the exponential helical line. On the small drying plate the material will be moved to its exterior edge and drop down to the exterior edge of the large drying plate underneath, and will then be moved inward and drop down from its central hole to the small drying plate on the next layer . Both small and large drying plates are arranged a lternately so a s materials can go through the whole dryer continuously. The heating media, which could be saturated steam, hot water or thermal oil will be led into hollow drying plates from one end to other end of the dryer. The dried product will drop from the last layer of the drying plate to the bottom layer of the smell body, and will be moved by harrows to the discharge port. The moisture exhausts from materials and will be removed from the moist discharge port on the top cover, or sucked out by the vacuum pump on the top cover for vacuum-type plate dryer. The dried product discharged from the bottom layer can be packed directly. The drying capability can be raised up if equipped with supplementary devices such as finned heater, condenser for solvent recovery , bag dust filter, return and mix mechanism for dried materials and suction fan etc. solvent in those paste state and heat sensitive materials can be easily recovered, and thermal decomposition and reaction can be also carried out.
Drying plate
(1). Designing pressure: general is 0.4MPa, Max. can reach 1.6 Mpa.
(2).W ork pressure: general is less then 0.4Mpa, and Max. can reach 1.6 Mpa.
(3).Heating medium: steam, hot water , oil. When the drying plates' temperature is 100, hot water can be used; when 100 -150, it will be saturated water steam<0.4Mpa or steam-gas, and when 150 -320, it will be oil; when >320 it will
be heated by electric, oil of fused salt.
spec
diameter mm
high mm
area of dry m2
power Kw
1200/4
1850
2718
3.3
1
1200/6
3138
4.9
1200/8
3558
6.6
1.5
1200/10
3978
8.2
1200/12
4398
9.9
2.2
1500/6
2100
3022
8.0
1500/8
3442
10.7
1500/10
3862
13.4
1500/12
4282
16.1
3.0
1500/14
4702
18.8
1500/16
5122
21.5
2200/6
2900
3319
18.5
2200/8
3739
24.6
2200/10
4159
30.8
4.0
2200/12
4579
36.9
2200/14
4999
43.1
5.5
2200/16
5419
19.3
2200/18
5839
55.4
7.5
2200/20
6259
61.6
2200/22
6679
67.7
11
2200/24
7099
73.9
2200/26
7519
80.0
spec
diamter mm
high mm
area of dry m2
power Kw
2500/6
3150
3319
26.3
4
2500/8
3739
35
2500/10
4159
43.8
5.5
2500/12
4579
52.5
2500/14
4999
61.3
7.5
2500/16
5419
70
2500/18
5839
78.8
11
2500/20
6259
87.5
2500/22
6679
96.3
2500/24
7099
105
13
2500/26
7519
113.8
3000/8
3800
4050
48
11
3000/10
4650
60
3000/12
5250
72
3000/14
5850
84
3000/16
6450
96
3000/18
7050
108
13
3000/20
7650
120
3000/22
8250
132
3000/24
8850
144
3000/26
9450
156
15
3000/28
10050
168