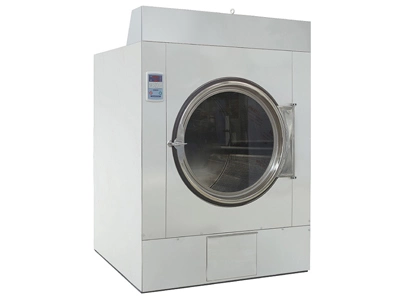 Product description:
1. Fast drying performance
2. Micro processor control.Temperature control and over-temperature protection device installed.
3. Durable stainless steel drum ,prevent the fabric from pollution,anti-corrosion.
4. Concentrated airflow pattern and sealed cylinder rims ensure maximum air utilization and energy savings,improve drying efficiency.
5. Heat-exchanger adopt steel finned pipe , having a higher thermal efficiency.
6. Advanced structure,fewer moving parts mean fewer maintenance problems and less wear.
7. Heating:Electrical, steam, gas, coal.
8. Easy accessibility to the vital parts, easy service, quick replacement of the belt.
9. Large door, easy loading and unloading, opens 180°, option:Left or right opening.
Huayi brand various models per various heating method(according to customer's requirement):
1. Steam heating
2. Electric heating
3. Gas heating
Specifications
Model
Item
Unit
HG(R)-15
HG(R)-25
HG(R)-35
HG(R)-50
HG(R)-70
HG(R)-100
Min Washing Capacity
kg
10
20
28
40
55
80
Max Washing Capacity
kg
15
25
35
50
70
100
Drum Dimension (DxL)
mm
Φ760x650
Φ960x650
Φ960x1000
Φ1200x870
Φ1280x890
Φ1500x1100
Drum voluem
L
295
470
709
983
1145
1943
Motor Power
kw
0.55
0.75
0.75
1.1
1.1
2.2
Fan power
kw
0.55
0.75
0.75
1.1
1.1
2.2
Rated Voltage
V
110/220/240/380/415/440v
Drying time
mins
≤40
≤40
≤40
≤40
≤40
≤40
Exhaust diameter
mm
200
200
200
200
200
200
Noisy
dB(A)
≤80
≤80
≤80
≤80
≤80
≤80
Vibration
mm/s
≤7
≤7
≤7
≤7
≤7
≤7
Heating power
kw
10.8
15.5
24
26.8
33
39
Gas Pressure
mpa
0.04-0.05
0.04-0.05
0.04-0.05
0.04-0.05
0.04-0.05
0.04-0.05
Consumes of Gas
kg
1.5
2
2.5
3.5
4.5
6
Steam Pressure
mpa
0.4-0.6
0.4-0.6
0.4-0.6
0.4-0.6
0.4-0.6
0.4-0.6
Consumes of Steam
kg
40-50
50-60
60-70
70-80
80-100
120-150
Dimension(L.W.H)
mm
840x1100x1620
1060x1100x1960
1060x1200x1960
1310x1500x2200
1420x1350x2300
1650x1850x2430
Packing size
mm
1020x1350x2000
1420x1220x2060
1580x1360x2190
1730x1480x2320
1790x1500x2430
1740x2090x2470
N.W.
kg
320
400
450
550
600
1000
G.W.
kg
400
500
550
700
780
1200