290L High Temperature Vacuum Drying Oven
Application
Vacuum oven are mostly used for drying, baking, sterilization of non - volatile items and heat treatment test
For mining enterprises, schools, medical and scientific research. Expecially for simultaneous drying of different kinds of polymers
In small quantities for drying materials for trial molding. They can also be applied in electronic engineering, electroplating,
And pharmacy, paint baking, printing industries, etc. For preheating or drying related products.
Features
Silicone sealing pressure pad, ensure the perfect tightness inside the box
Glass fiber insulation, provide efficient thermal insulation, energy - saving effect
Heating plate installed in a box in a four - sided, ensure temperature uniformity
Digit temperature sensor, ensure work stably for given vacuum conditions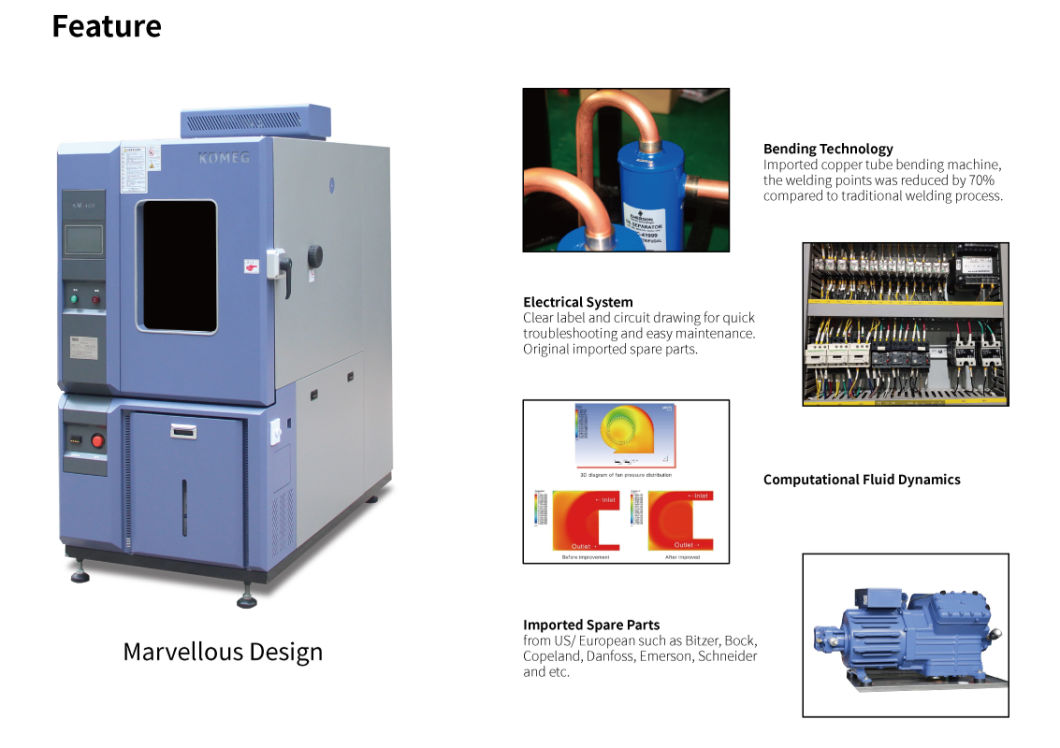 Why KOMEG?
1. We specialize in this field for more than 20years;
2. About this style we have nine different Models, from KOV-50 to KOV-1800.
3. We choose fine quality material, such as stainless steel plate, glass wool
4. Our slaes are experienced and trained
5. Big clients, such as, HUAWEI, Epson, Siemens, GREE, etc
About our company
Komeg Technology Co., LCD was found in 1990. In order to meet the requirement of the market, Komeg run a factory in 2002. Komeg has business oon reliability chamber, thermal shock chamber, walk in chamber, burn-in room, oven, vibration tester, salt spray tester, , etc. Komeg is widely recognized and commended by the top 500 companies and also customers from electronic, computer, home appliance, communications, chemical industry and scientific research. In 2003, Komeg did the research and development of the main equipment and with the Peking University for State key laboratory of environment and pollution simulation (located in Shenzhen High-Tech Park, and funded by nation natural science foundation).
In order to better meet the requirement of the changeable market and the customer's diversity requirement, Komeg has moved into the national High-tech Park---Songshan Lake in Dongguan city. Based on innovation and integrity, Komeg will serve and return customer with new better service and excelent products under the brand of "Komeg" in the future.
Besides this, we also provide programmable constant temperature and humidity chamber, thermal shock chamber, rapid temp. Change chamber, High and low temperature altitude chamber, Solar panel chamber, salt spray test chamber, drop tester, oven series, burn-in room, aging room. etc.
Packaging
Each set protected with resin fiber and PP film, then put into strong wooden case with operation mannual and video inside.
After-sale service
If you face any problems in future during testing process we promise we will give you a reply within 48 hours and solution provide within 3 working days. We can offer operation video and English operation muanual. We can provide video-conference. If customers require on-site service, the transport and travel expense shall be borne by customer.
Big Reasons to Buy:
1. We appreciate you, the customer, and we always treat our customers with the greatest consideration and courtesy.
2. We'll be here tomorrow. Our business has been headquartered in Shenzhen, Dongguan for over twenty years. We are one of the largest independant environment test equipment manufacturers in China.
3. We'll do our best to remedy any problem you might have with a purchase. We are old fashioned in our customer service; We believe we have an obligation to give you our best if you purchase from us.
4. Your order will be filled accurately and shipped promptly. We have thousands of parts in stock. We have been selling by email order for over fifteen years.
5. You won't pay too much. Our volume buying and low overheads assures you of a low price and top quality new products.
Technical parameter
Specifications
Model
Power
Temp Range
Vacuum limit
Working chamber size ( W*H*D ) mm
KUO-27-200
3KW
60 ºC -200 ºC
130Pa
300*300*300
KUO-72-200
4KW
60 ºC -200 ºC
133Pa
400*450*400
KUO-100-200
5KW
60 ºC -200 ºC
133Pa
450*450*450
KUO-290-200
7KW
60 ºC -200 ºC
130Pa
600*950*500
Note: 1. We reserve the right to change specifications without prior notice 2. Customized sizes and configurations available