KINKAI Heat Pump Dryer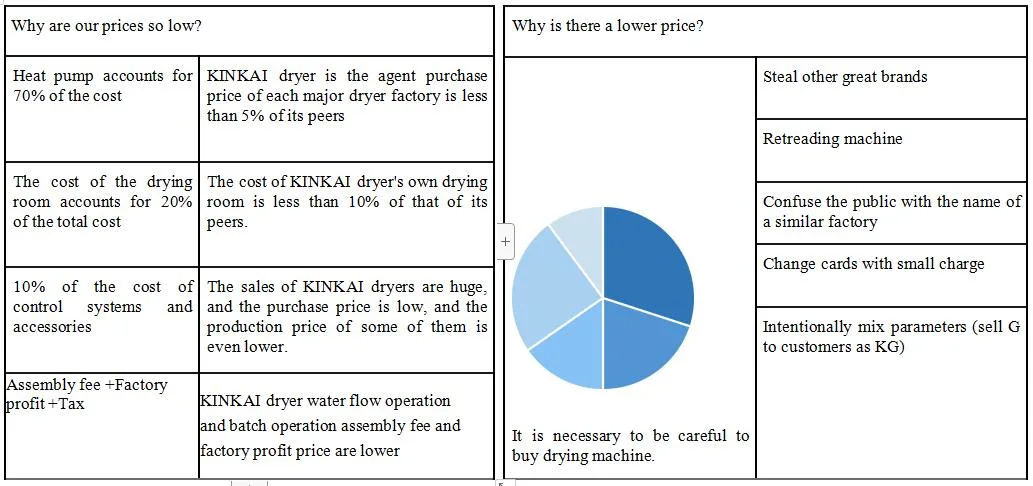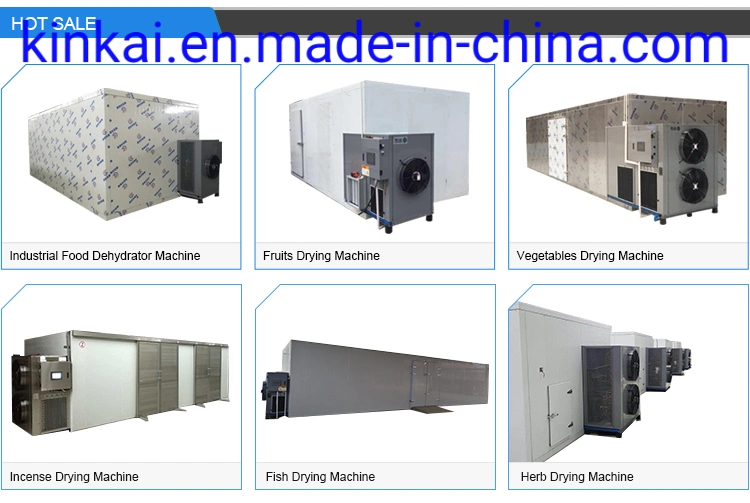 | | |
| --- | --- |
| Model | Single JK03RD |
| Power consumption | 5.5KW |
| Product capacity | 300-400KG/Batch |
| Chamber size | 3.16*2.07*2.2m |




| | |
| --- | --- |
| Model | Single JK06RD |
| Power consumption | 9.5KW |
| Product capacity | 600-700KG/Batch |
| Chamber size | 5.7*2.17*2.2 m |




| | |
| --- | --- |
| Model | Single JK12RD |
| Power consumption | 19.0KW |
| Product capacity | 1200-1300KG/Batch |
| Chamber size | 5.81*3.23*2.2 m |




| | |
| --- | --- |
| Model | Double JK03RD |
| Power consumption | 11.0KW |
| Product capacity | 800-900KG/Batch |
| Chamber size | 7.51*2.07*2.2m |





| | |
| --- | --- |
| Model | Double JK06RD |
| Power consumption | 18.4KW |
| Product capacity | 1500-1600KG/Batch |
| Chamber size | 10.53*2.17*2.2m |




| | |
| --- | --- |
| Model | Double JK12RD |
| Power consumption | 32.0KW |
| Product capacity | 3500KG/Batch |
| Chamber size | 10.75*3.23*2.2 m |

Model: JK03RD, JK06RD, JK12RD
Power Supply: 220V/1PH/50HZ or 380V/3PH/50HZ
Type: 75% air source + 25% electric power
Max. Temp: 75C
Working Temp: -10~45C
Functions: Heating / Cooling / Dehumidify
Dryer Type: (Heat Pump)Batch System
Single Type
MODEL

UNIT

JK03RD

JK06RD

JK12RD

POWER SUPPLY

V/PH/HZ

380V/3PH,50/60HZ

380V/3PH,50/60HZ

380V/3PH,50/60HZ

220V/1PH,50/60HZ

RATED CURRENT

A

9.6A(380V),22A(220V)

17.0

30.0

HEATING CAPACITY

KW

10.5

21.0

42.0

COOLING CAPACITY

KW

7.8

18.0

32.0

DEHUMIDIFY

L/H

12.0

25.0

50.0

TEMPERATURE

C

10-75

10-75

10-75

NOISE

dB(A)

75

75

75

ELECTRIC HEATER

KW

3.0

6.0

12.0

DRYER DIMENSION

MM

1675X860X1280

1760X1060X1280

2120X1360X1590

WEIGHT

KG

180

285

480
Double Type
MODEL

UNIT

JK03RD

JK06RD

JK12RD

POWER SUPPLY

V/PH/HZ

380V/3PH,50/60HZ

380V/3PH,50/60HZ

380V/3PH,50/60HZ

220V/1PH,50/60HZ

RATED CURRENT

A

19.2A(380V),44A(220V)

34.0

60.0

HEATING CAPACITY

KW

21.0

42.0

84.0

COOLING CAPACITY

KW

15.6

36.0

64.0

DEHUMIDIFY

L/H

24.0

50.0

100.0

TEMPERATURE

C

10-75

10-75

10-75

NOISE

dB(A)

75

75

75

ELECTRIC HEATER

KW

3.0x2

6.0x2

12.0x2

DRYER DIMENSION

MM

1675X860X1280

1760X1060X1280

2120X1360X1590

WEIGHT

KG

180x2

285x2

480x2
Buying Guide
Model

Dryer Qty

Product capacity

Chamber Size

Power Consumption

JK03RD

Single

300kg/ batch

4000x2000x2200mm

4.8kw

Double

1300kg/ batch

7000x2000x2200mm

9.6kw

JK06RD

Single

600kg/ batch

6000x2800x2200mm

8.5kw

Double

1500kg/ bacth

10000x2800x2200mm

17kw

JK12RD

Single

1000kg/ batch

6000x3000x2200mm

15kw

Double

3500kg/ batch

10000x3000x2200mm

30kw
Warm prompt: We can make any drying chamber sizes as your required.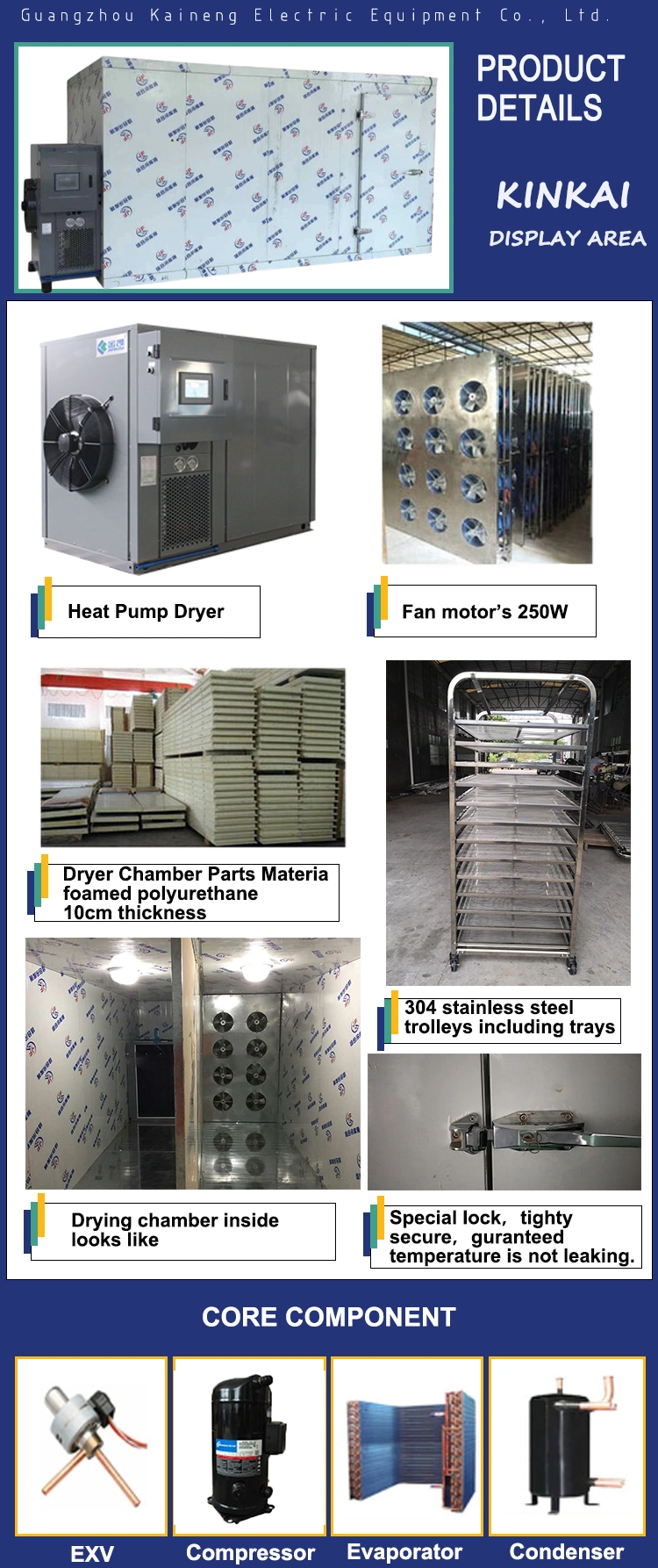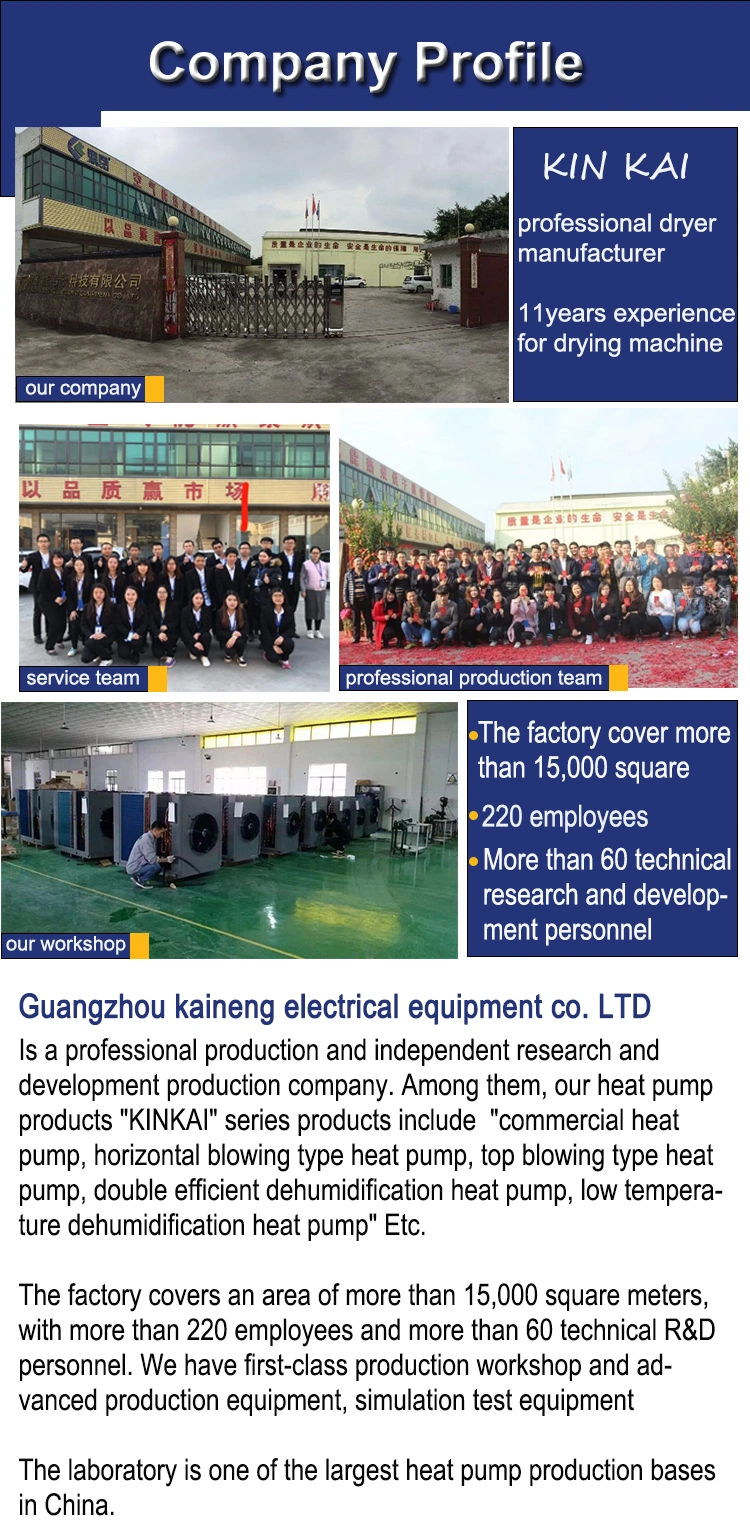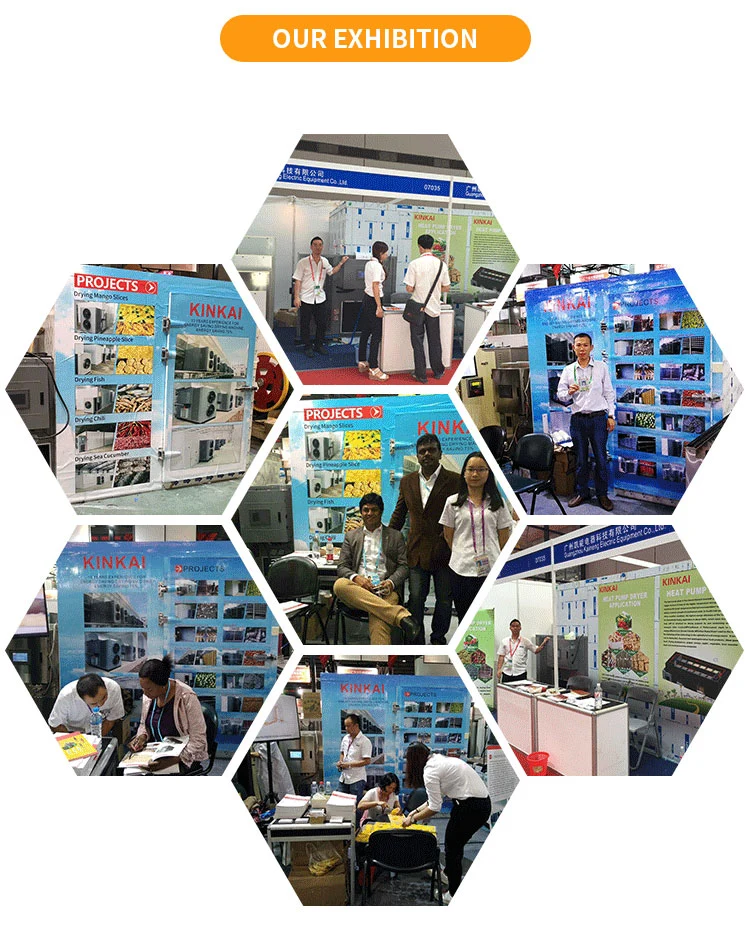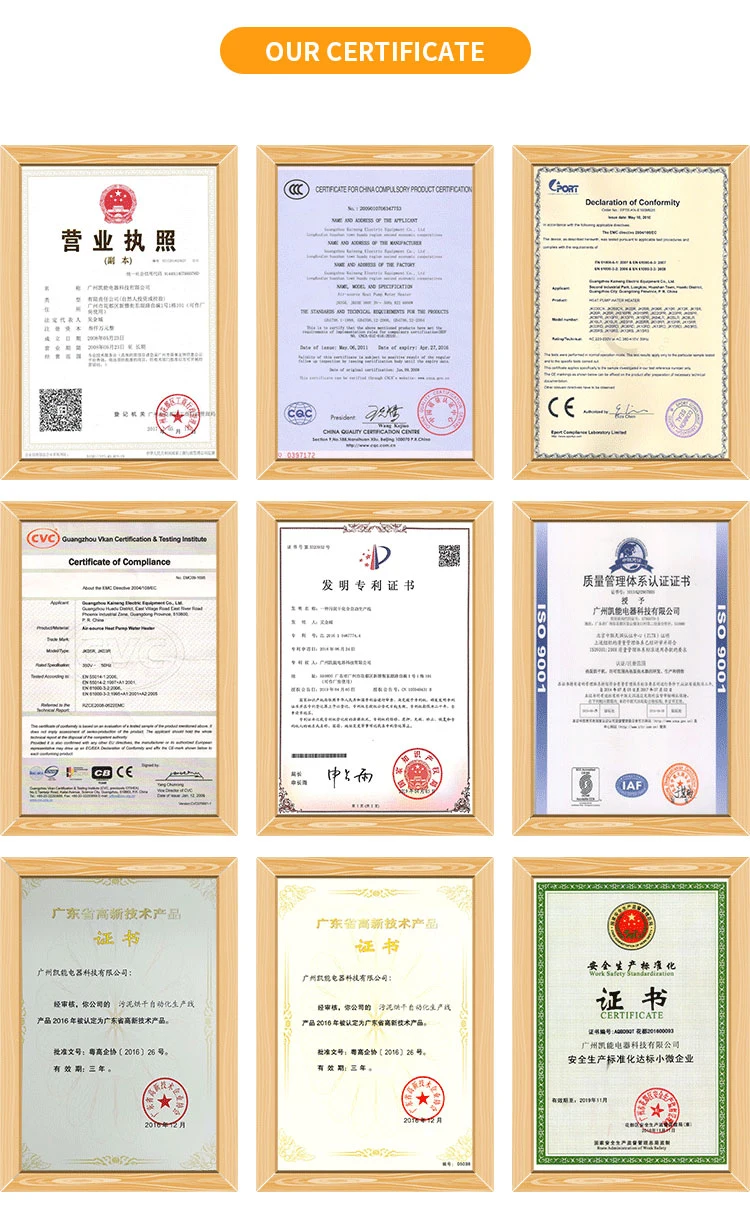 Our Services
A. Technical service
1
.
We calculate the capacity and recommend the best models.
2
.
We supply you the professional refrigeration technical support and electronic technical support for your installation, debugging and operation.
3
.
We supply the spare parts and technical support in & after the warranty time.
4
.
We supply the training course to your workers at our factory if you need.
B. After-sales service
1
.
Technical support for your installation, operation and maintenance.
2
.
One year's warranty, and you can pay for extended warranty.
3
. Spare parts and technical support at most economic prices after the warranty.
C. Payment Service
1. T/T
2. L/C (for container order only)
3. Western Union, (for sample order & parts)
FAQ
1. Does the KINKAI drying machine running by Gas or electricity or Diesel
Answer: Electricity only
2. Could I put my LOGO on the Dryers?
Answer: Yes,we can provide OEM service.
3. What is the material of drying machine cover ?
Answer: we can do SS304# or coat steel, sure,difference material with different price
4. What should I do if I am interested in your drying machine?
Answer: Thank you so much for your attention. Please don't hesitate to contact us by mail or by phone, telling us which one model, how many sets, drying capacity, and special requirements etc.
5. What are your main products of your company?
Answer: Heat pump dryers, heat pump(including air to water heat pumps, water to water heat pumps).
6. Could you give me your catalogue?
Answer: Yes, you can download it on website or send us email,we will send you asap.