coal tar rotary kiln / dry kiln / heat treatment furnace for sale
Rotary kiln description:
Rotary kiln is a pyroprocessing device used to raise materials to a high temperature (calcination) in a continuous process. Materials produced using rotary kilns include: Cement, Lime, Refractories, Metakaolin, Titanium dioxide, Alumina, Vermiculite, Iron ore pellets, etc.
Rotary kiln is a cylindrical vessel, inclined slightly to the horizontal, which is rotated slowly about its axis. The material to be processed is fed into the upper end of the cylinder. As the kiln rotates, material gradually moves down towards the lower end, and may undergo a certain amount of stirring and mixing. Hot gases pass along the kiln, sometimes in the same direction as the process material (co-current), but usually in the opposite direction (counter-current). The hot gases may be generated in an external furnace, or may be generated by a flame inside the kiln. Such a flame is projected from a burner-pipe (or "firing pipe") which acts like a large bunsen burner. The fuel for this may be gas, oil or pulverized coal.
Rotary kiln is often compared to an industrial sized oven which is designed to withstand extreme temperatures as needed for the smelting process of all types of hydraulic cement.
Calcium carbonate reacts with materials that include silica that in turn forms a calcium silicate. As very high temperatures are needed to make this process possible; it is only made possible through the innovative design of heavy duty cement rotary kilns.
Rotary kiln should only be purchased from a reputable source such as a professional cement rotary kiln supplier. This is due to the fact that the process under which a rotary kiln operates is extremely dangerous and the use of a lesser quality rotary kiln will most definitely lead to injury, death and large losses for the company due to kiln failure.
Packing information of coal tar dry kiln: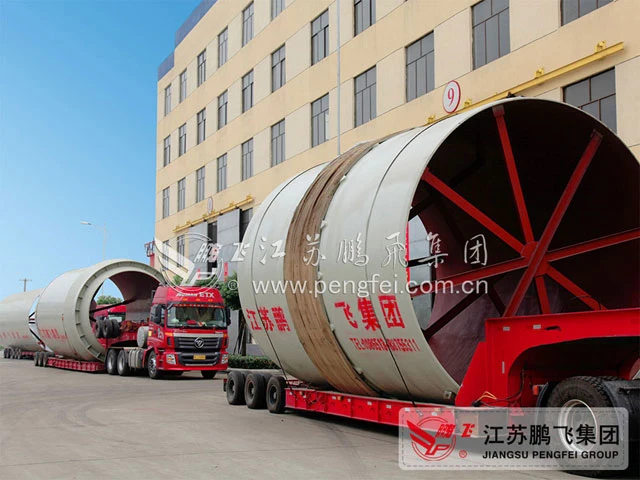 Our service for heat treatment furnace for sale:
Equipment selection, equipment supply, installation, commissioning, etc.
Company Information of Jiangsu Pengfei Group:
Jiangsu Pengfei Group
covers an area of 350,000m2 and it has 0.82 billion RMB of total assets. There are 450 engineers and technicians. The company has the six subsidiary companies such as the mechanical plant, electronic plant, casting plant, installation plant, the new type building materials plant, etc. The company has the mechanical processing capacity of 300,000t/y; its rotary diameter and gear hobbing diameter are 10m as well as the diameter of the annealing furnace is 6.5m; the maximum hoisting capacity is 400t, so the company can meet the manufacturing requirements of the rotary kiln and ball mill below ¦Õ6m. The large-sized pre-heater, rotary kiln, tube mill, vertical mill, cooler and other main machinery is completely researched, developed and manufactured by Pengfei Group itself. The company has assumed the dual role of supplier for the turn-key services and supplier for main equipments. After obtaining signing right and management qualifications of foreign project-contracting, Jiangsu Pengfei Group Co., Ltd actively develops the international business of project contracting, contracts construction and installation project as well as international bid project of cement, metallurgy, chemical machinery and equipment , at the same time dispatches the needed labors that the above mentioned foreign projects needed.