Sawdust Rotary Drum Dryer Machine
Product Description
The new type of wood chips rotary dryer is shaped as a horizontally inclined rotating cylinder. Wet wood chips are feed at feed port and discharged at the output port. In direct-type rotary dryer (cylinder drier), hot air moves through the cylinder in direct contact with the material in the dryer, either downstream or against the direction of its flow. The wood chips rotary dryer is equipped with scatters equipment, make wood chips fully touched with the hot air, so that has a very good drying effect.
Wood chips rotary dryer is used for drying materials with a certain humidity lightweight material, such as bean dregs, wood chips, cassava dregs, Marc, distiller's grains, and others. Our special design wood chips rotary dryer has a strong adaptability of materials and it can dry various materials. This type of wood chips rotary dryer operation is very simple and liable. Also our professional wood chips rotary dryer has played an important role in various drying industries, wood chips rotary dryer is used for drying materials with humidity or granularity in the industries of mineral dressing, building material, metallurgy, and chemical.wood chips rotary dryer can be used for drying many kinds of materials and with the convenient and reliable operation; therefore, it has been widely used.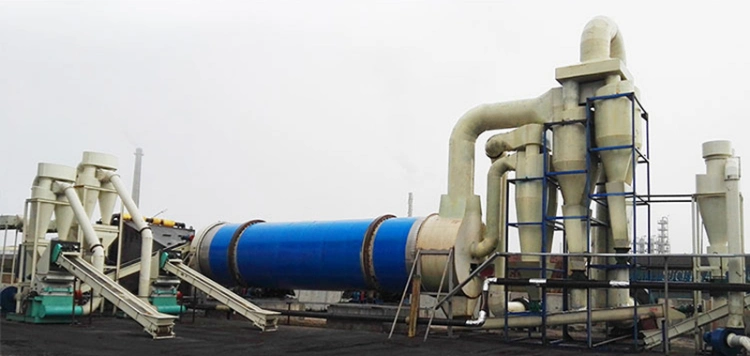 Product Features
1. PLC smart control & high automaticity. The performance of the rotary dryer and moisture content of dry materials is automatically controlled in stable states.
2. High heat efficiency. The design of multiple circumferential flight combinations and flow rate adjustment devices ensures the control of the drying period and temperature distribution. The effect of insulation is as high as 70% and raise heat efficiency by 20%.
3. Four-wheel drive, more steady and stable.
4. Save 50% space compared with traditional dryers and reduce 50% civil investment.
5. Convenient variable frequency control systems. The customer could change the material flow rate and product moisture based on their needs.
6. Environmental and safe. Modular configuration of dust collection and purification systems
7. More choice for novel air furnace with high efficiency, convenient manipulation, and energy control, which could reduce 30% energy cost and 20% electric cost.
Structures

Drying Process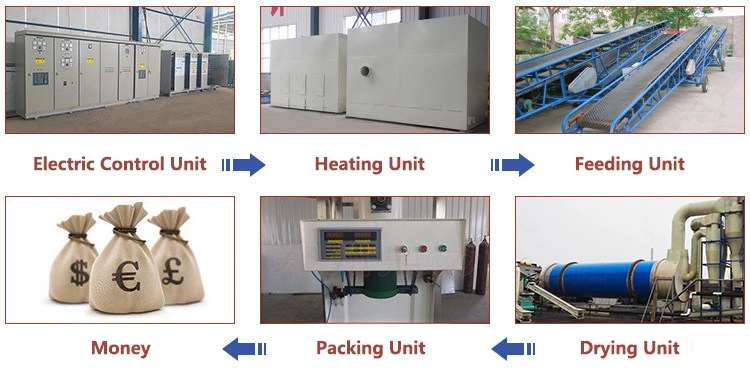 Application
Sawdust dryer is widely used for the drying of straw briquette, charcoal, wood pellet fuel, sawdust briquette, corn straw, soybean straw, cotton stalk, wheat straw, sorghum stalk, wood shavings, sawdust, ginkgo leaf, mulberry leaves, and other fiber materials.

Working Principle
Sawdust is fully dried in the rotary drum and gets separated again before entering the conveying pipe for further drying. The baffler can keep the impurities out of the conveying pipe and ensures the high quality of dried sawdust. With the combined work of rotary drum and injection pipe, wet materials are fluidized and fully contacted with the hot flow.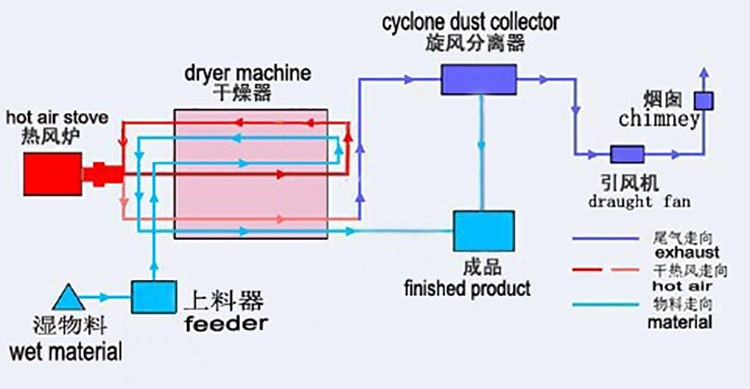 Technical Specifications
Model(DLSG)

1409

1615

2008/3

2010/3

2210/3

2510/3

2512/3

2912/3

Input Capacity(t/h)

1.53

2.89

5.2

6.63

7.24

8.91

10.5

12.14

Output Capacity(t/h)

1.08

2.03

3.67

4.68

5.11

6.29

7.41

8.57

Vaporization(t/h)

0.45

0.85

1.53

1.95

2.13

2.62

3.09

3.57

Early Moisture(%)

40±5%

Final Moisture(%)

15%(adjustable)

Drying Temperature(ºC)

280±30

Total Power(kw)

34

45

78

90

105

125

140

155

Total Weight(t)

22

28

40

45

50

60

68

76

Plant Area(m)

5*15

6*22

8*16

8*18

8*20

10*20

10*24

10*24

Except for the above models, we also can supply special model according to your requirements
Successful Cases


Zhengzhou Jiutian Machinery Equipment Co., Ltd. dryer products cover all kinds of slime products such as coal slime, dregs, biomass, organic fertilizer, sludge, yeast, coconut fiber and chaff, and coconut. At present, the company not only has a huge customer resource system and considerable market share in the country but also in the UK, Russia, Greece, Italy, Israel, Morocco, Congo, Egypt, Côte d'Ivoire, Madagascar, Australia, India, Vietnam, Laos, Indonesia, Malaysia. In many overseas countries such as Sri Lanka, Chile, and the United States, the dryer case was established and successfully put into operation, and the quality and technology of the dryer products were in line with international standards.

If you want to learn more about wood chip dryer cases and view videos, please contact us!





FAQ
Q: What is your Business Model? Trading company or factory?
A: We are a 15 years factory, all our machinery is manufactured by ourselves, factory direct sales, product quality, and after-sales service can be guaranteed.
Q: Can I visit your factory?
A: Yes. Many domestic and international customers visit our factory every year. Our company is located in Zhengzhou Henan province, China, you can come here by air or train.
The nearest airport is Zhengzhou Xinzheng International Airport, and the Airport Code is CGO.
We will pick you up at the airport. Welcome to visit our factory.
Q: What is the Quality of your products?
A: Zhengzhou Jiutian products come with the best quality, and our products passed CE certification, exported to lots countries around the world, such as Australia, Malaysia, India, Italy, Indonesia, Vietnam, Philippines, Korea, Brazil, Argentina, Russia, South Africa, etc. You can rest assured of the quality absolutely.
Q: How long is the Warranty of your equipment?
A: Our warranty period is one year generally.

About Us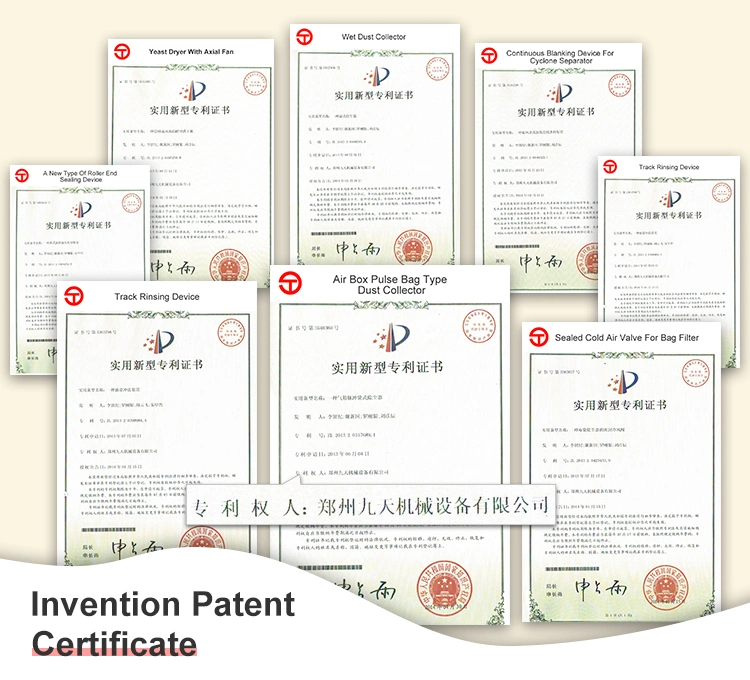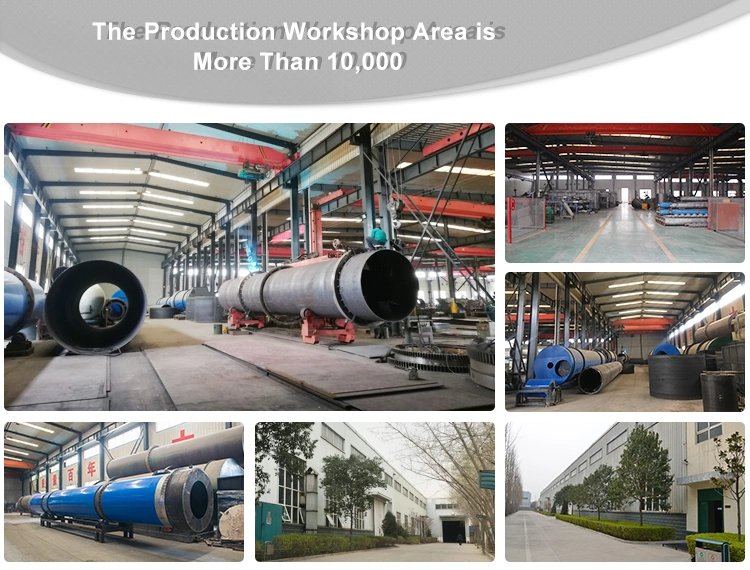 Packaging & Shipping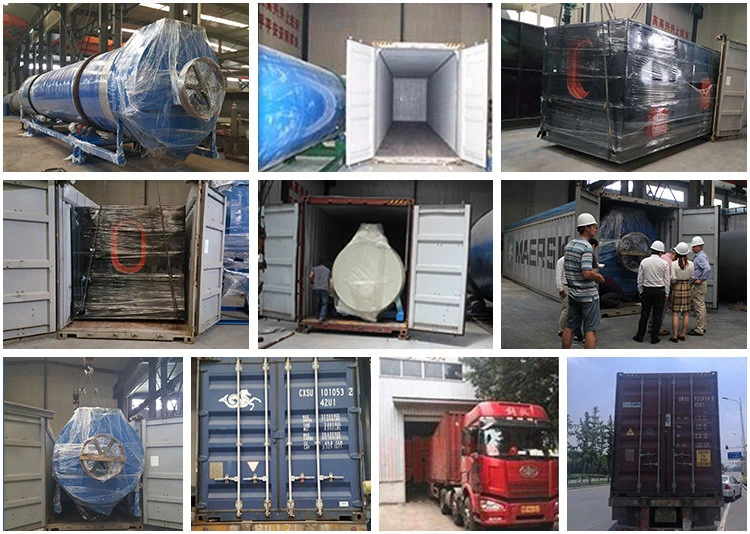 Contact Us
If you are interested in our products, or if you have any questions, please feel free to
contact us
, we will give you a reply within 24 hours!