PID Control High Temperature Industrial Vacuum Oven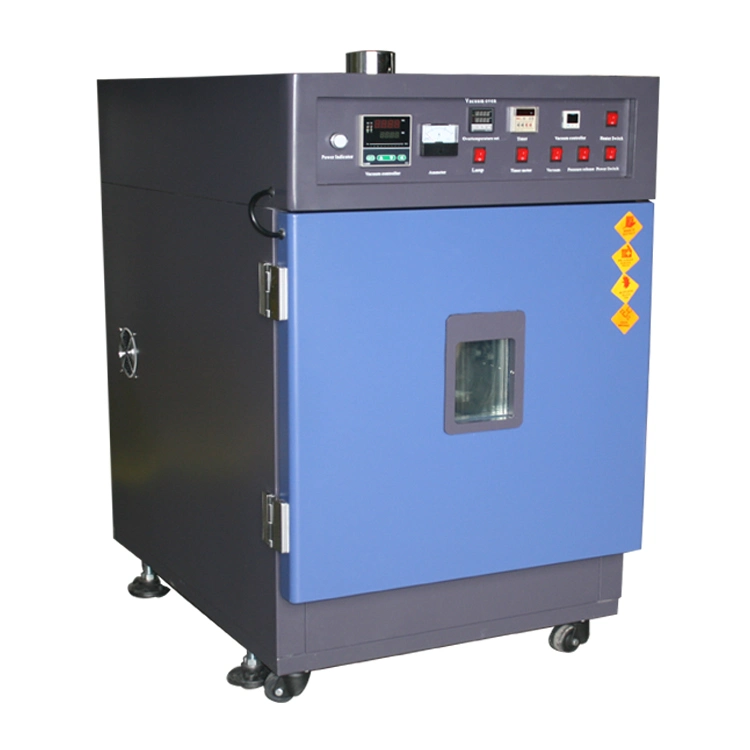 Industrial vacuum oven is used in baking process, aging test and the need of high temperature without stress of electronic components and plastic chemical products, the industry requirements of components development, quality control and other related regulations.
Features
1. Materials: inner chamber adopts strongly reinforced SUS201#5.0t stainless teel with argon-arc seak welding to prevent bending and deformation. External chamber adopts rust-proof SUS41#1.5T with anti-static high-temperature powder coating.
2. Structure:Adopts advanced 100mm insulation, heating internal chamber directly, so as to keep low surface temperature of the external chamber. Use high temperature resistant and environmental-friendly silicon for fastening. Equipped with cassette door buckle.
3. Insulation:Adopts high density and high temperautre resistant 100k insulation with six-sided heating preservation and insulation.
4. Door: Single-door type and American full-open typle. Equipped with magnetic fastening device along all the 4 edges, sturdy and durable.
5. Air ventilation device: Pressure range0~760mmHg, air leakage less than 10mm/HG/HR is allowed, max. vacuum degree is 0.1KPa.
6. Caster: Use casters to adjust position and use strengthening screw bolt to keep position.
7. Vacuum pump: Adopts imported vacuum pump, which is located at the bottom of the chamber, integrated with solenoid valve and vacuum presuure meter.
8. Electric heating system: Adopts ceramic-surrounded chromium-nickel alloy heater, which is installed around the internal chamber, ensure uniform teperature inside the chamber, and heat the internal chamber by thermal dadiation.
9. External device: 19mm tempered safety observation glass. To prevent the vacuum charging valve gauge oil returning.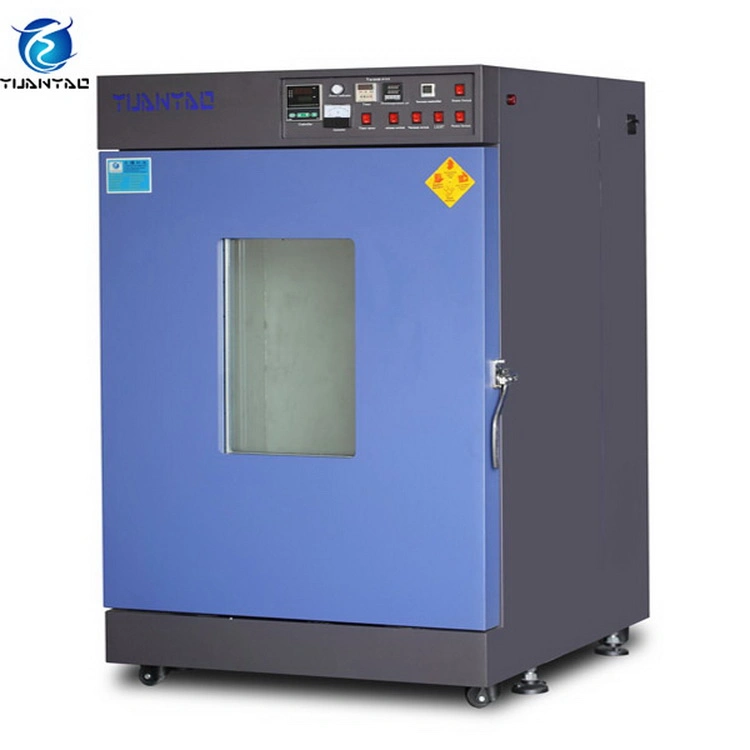 Model
YPO-072
YPO-270
YPO-480
YPO-600
YPO-720
Inner chamber size W*H*D(mm)
450*400*400
600*900*500
800*1000*600
1000*1000*600
1200*1000*600
Exterior chamber size W*H*D(mm)
810*870*1080
960*1370*1180
1060*1700*1250
1260*1700*1250
1460*1700*1250
Temperature Range

Room temperature +10ºC to +250ºC(300ºC)

Temp. control accuracy
±0.5ºC
Temp. uniformity
±5ºC
Temp. resolution
0.1ºC
Vacuum range

Atmospheric pressure to -98KPa

Heat-up time
RT-250ºC≤ 90minutes
Material
SUS#304 stainless steel plate for inner chamber,Stainless steel plate+ Power
Coated for outside.
Insulation
PU& Fiberglass wool
Wind Circulation
Cooling fan
Heating system
SUS#304 stainless steel high-speed heater
Controller
CAHO H961KV02 controller (Taiwan)
Vacuum system
Equipped with vacuum pump
Safty Devices
Overheating circuit-breaker,overload protection, overload indicator
Power Supply
AC 3∮380V 60/50Hz
Customization
Customization of inner chamber size, tempreture range,vacuum range ect.
Product detail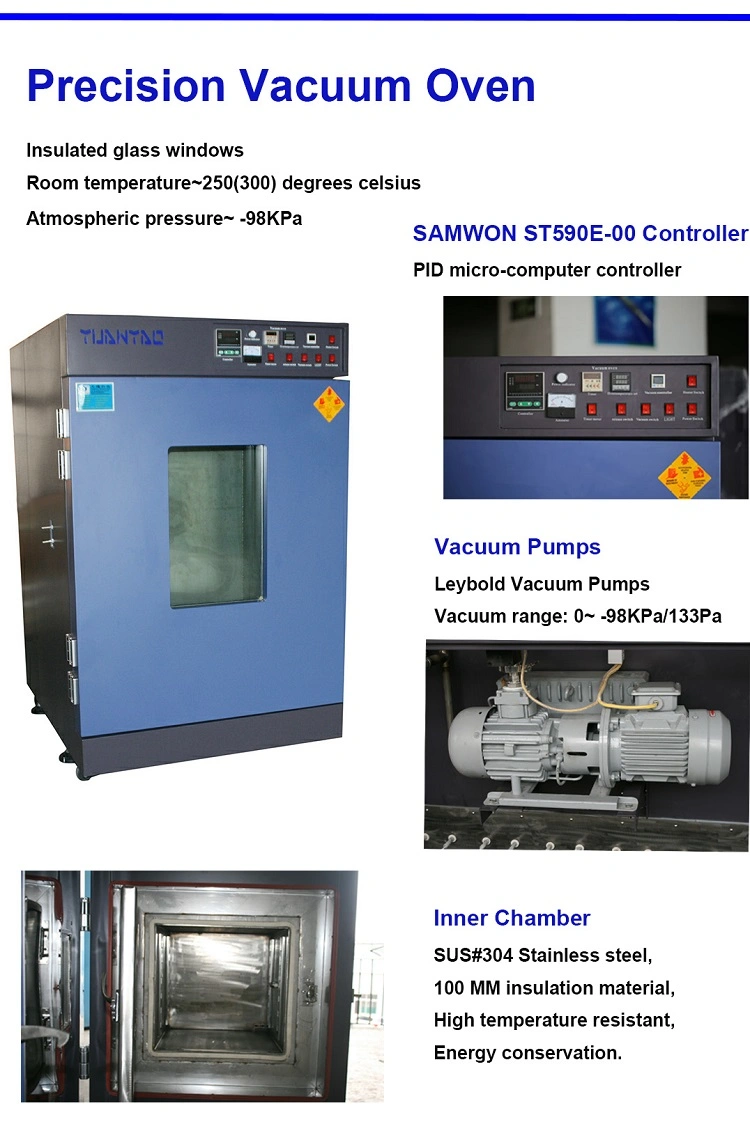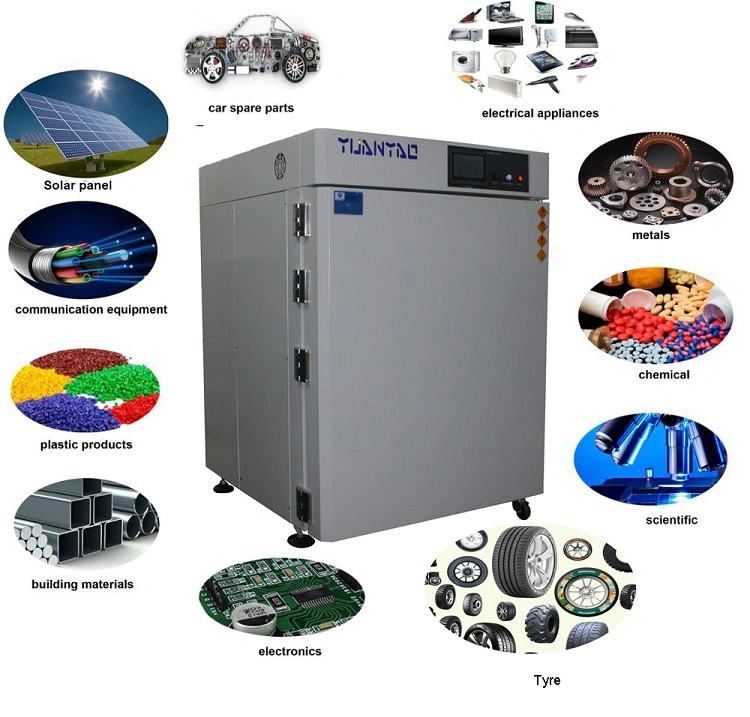 Except Vacuum Oven, Dongguan Yuan Yao Electronics Technology Co., Ltd also can supply:
1) Temperature/ humidity test series: Temperature humidity test chamber, Walk in environmental room, Thermal shock test chamber, High altitude low pressure simulation test chamber
2) Aging test series: Hot air oven, Vacuum drying oven, Air ventilation aging test chamber, Steam aging test chamber, Ozone resistance test chamber, Burn in test equipment
3) Weather simulation tes series: Rain spray test chamber, dust test chamber, Xenon lamp aging test chamber, UV test chamer
4) Mechanical test series: High frequency vibration test machine, drop test machine , Glue dispensing machine etc.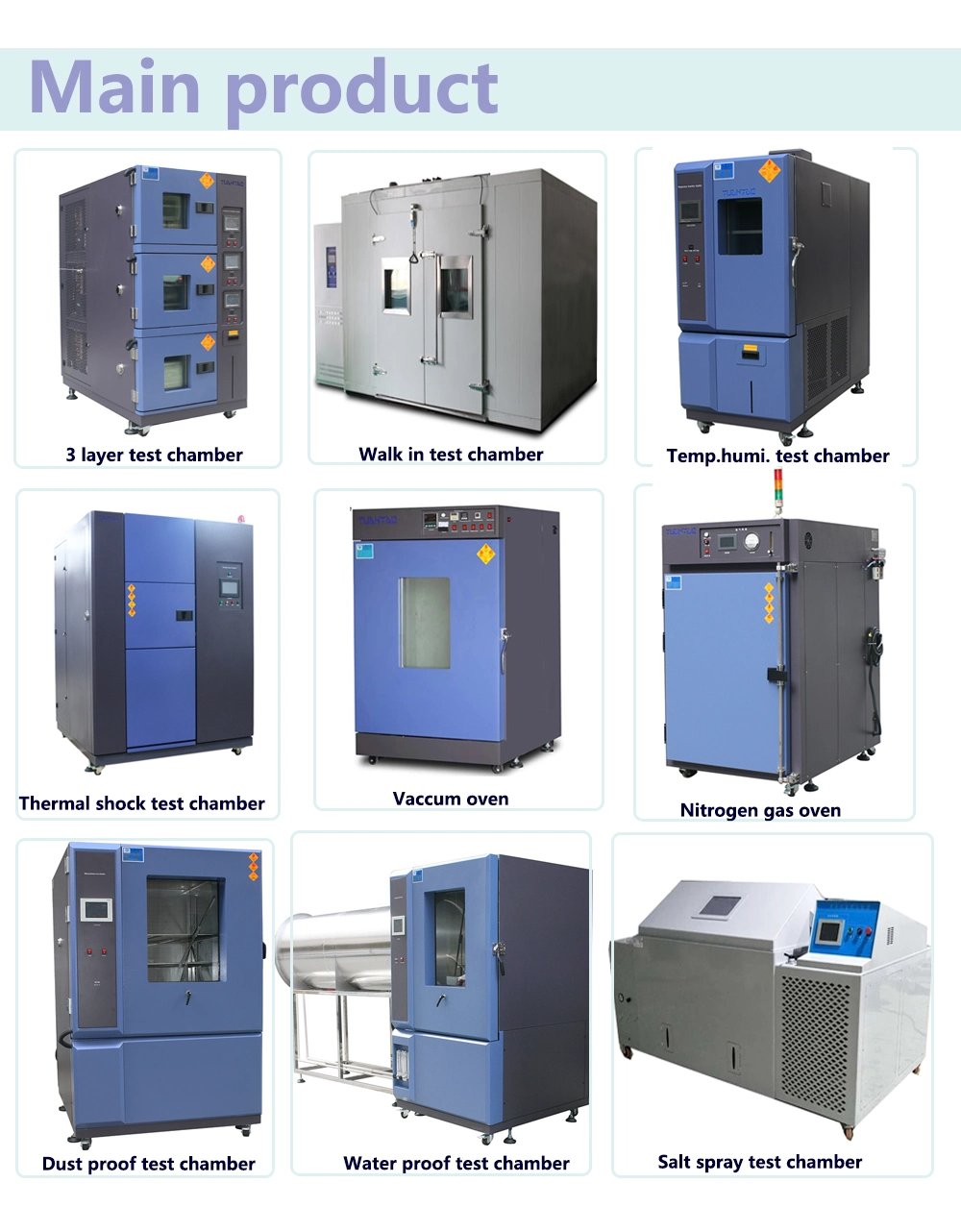 Company profile