Huaxian Fresh Care Machine
Huaxian produces fresh care machine to keep your food fresh!


500KG Pet Nature Food Freeze Drying Equipment, Healthy Vegetable Drying Oven
Vacuum freeze dryer is composed of vacuum drying system, refrigeration system, heating system, heating plates, gauges and control system, etc.
It is suitable for products which is sensitive about temperature, easy get bad, but needing its original taste kept and no destroy on structure.
Suitable for freezing drying process of aquatic products, vegetables, fruits, meat, mushrooms, etc.
Freezing drying is to blast freezing products to be solid form, then sublimate ice to be vapor in high vacuum environment to remove product's water.
Advantages are as follows:
a. Product water rate can be lower to 1~3% around to be with good saving condition, no change on volume, foam splitting, surface hardening and structure. The product color, flavor, taste and original ingredient can be well kept.
b. Best dehydration method with best rehydration performance, other dehydration method can't reach such performance.
c. Operation is under low temperature and closed vacuum environment which prevent products from oxidation and contamination.
Basic Principle:
a. Surface temperature of cold trap lower than -35degees celcius.
b. Product is below freezing point.
c. Vacuum degree 40Pa.
d. Product temperature is controlled between -40~+60 degrees celcius with sublimation potention heat, and products not melt above eutectic point.



Dyring Process:
a. Pre-freezing.
b. Initial drying.
c.Main drying.
d. Reduce drying.
e. Ultimate drying.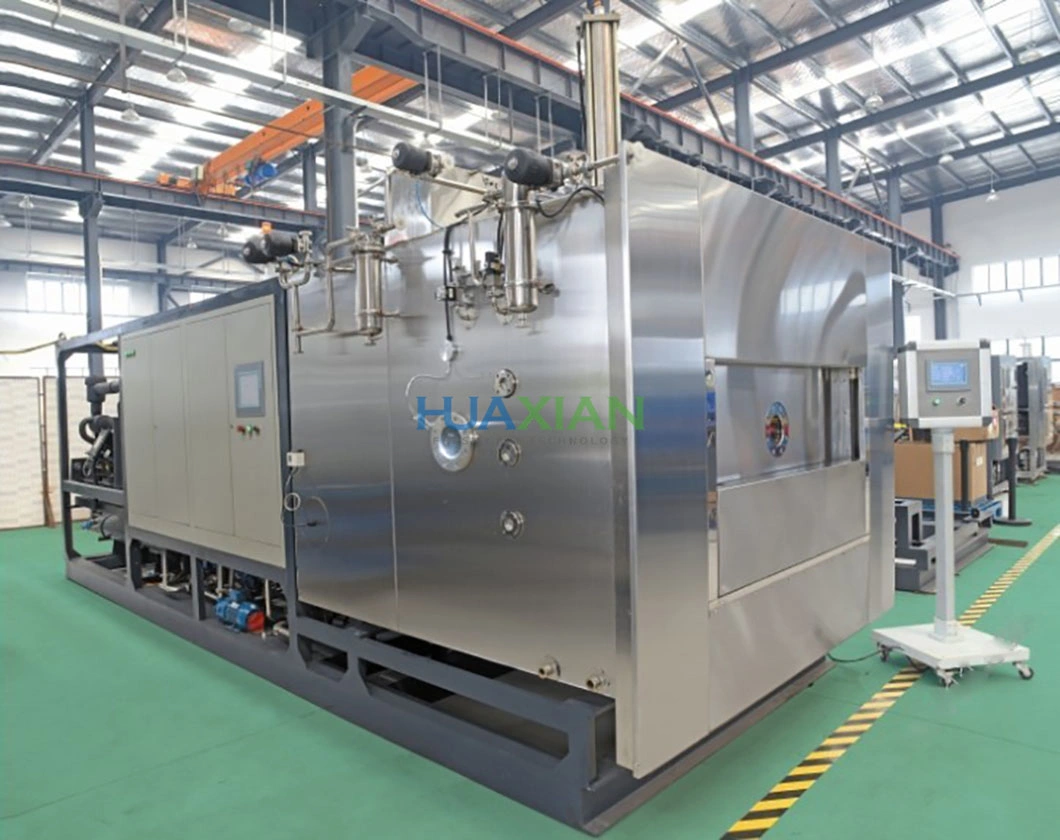 Huaxian Model
No.
Model
Water Catching Capacity
Total Power(kw)
Total Weight(kgs)
Drying Area(m2)
Drying Weight/Cycle
Overall Dimensions
1
HXD-0.1
3-4kgs/24h
0.95
41
0.12
1.2L

640*450*370+430

(

mm

)

2
HXD-0.2
6kgs/24h
1.4
105
0.18
2.0L
640*570*920+460mm
3
HXD-0.4

>

6Kg/24h

4.5
400
0.4
4.0L/4~6kgs
1100*750*1400mm
4
HXD-0.7

>

10Kg/24h

5.5
600
0.69
7.0L
1100*770*1400mm
5
HXD-1
⩾15Kg/24h
6.5
700
1.04
10L
1170×830×1665mm
6
HXD-2
40kgs/24h
13.5
2300
2.25
22L
1200*2100*1700mm
7
HXD-5

>

100Kg/24h

25
3500
5.2
50L
2500*1250*2200mm
8
HXD-10
-
23
2100
10
100
2500*2000*1750mm
9
HXD-20
250kgs/batch
63
8000
20
200kgs

Shelf size

(

L*W*H

)

1420×1000×15mm
Cylinder Φ1600*1800
10
HXD-30
-
83
8000
30
300kgs
3600*2200*1600mm
11
HXD-50
800Kg/batch
230
15000
50.8
500kgs
Drying Room:8000*2300*2500mm Machine unit: 7000*2100*2400mm
Product Pictures-Vegetable /Fruit Freeze Dryer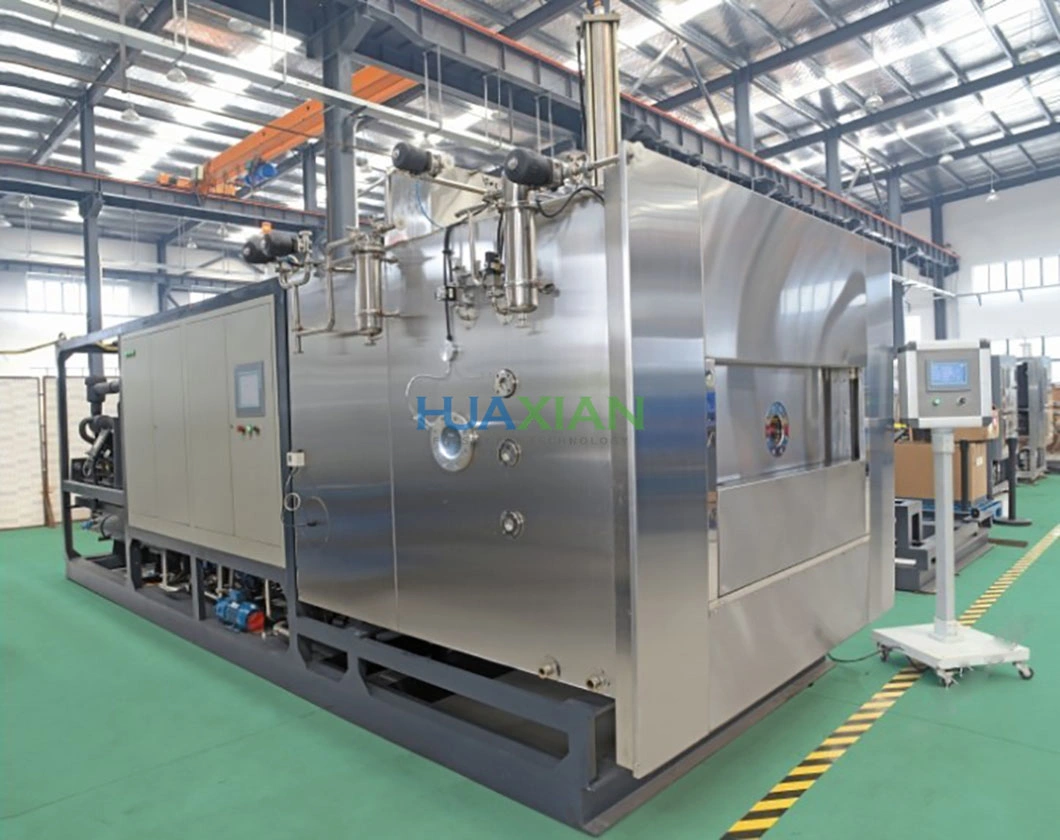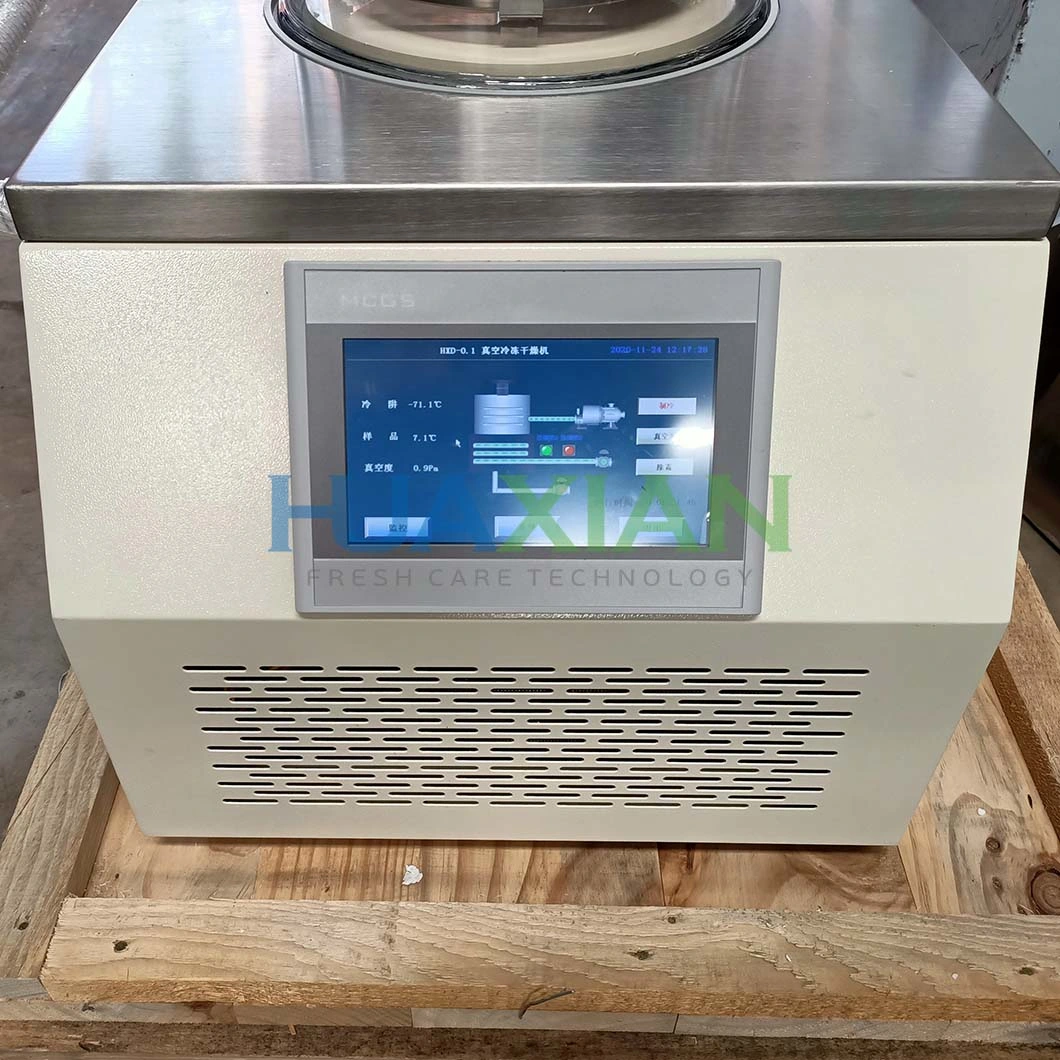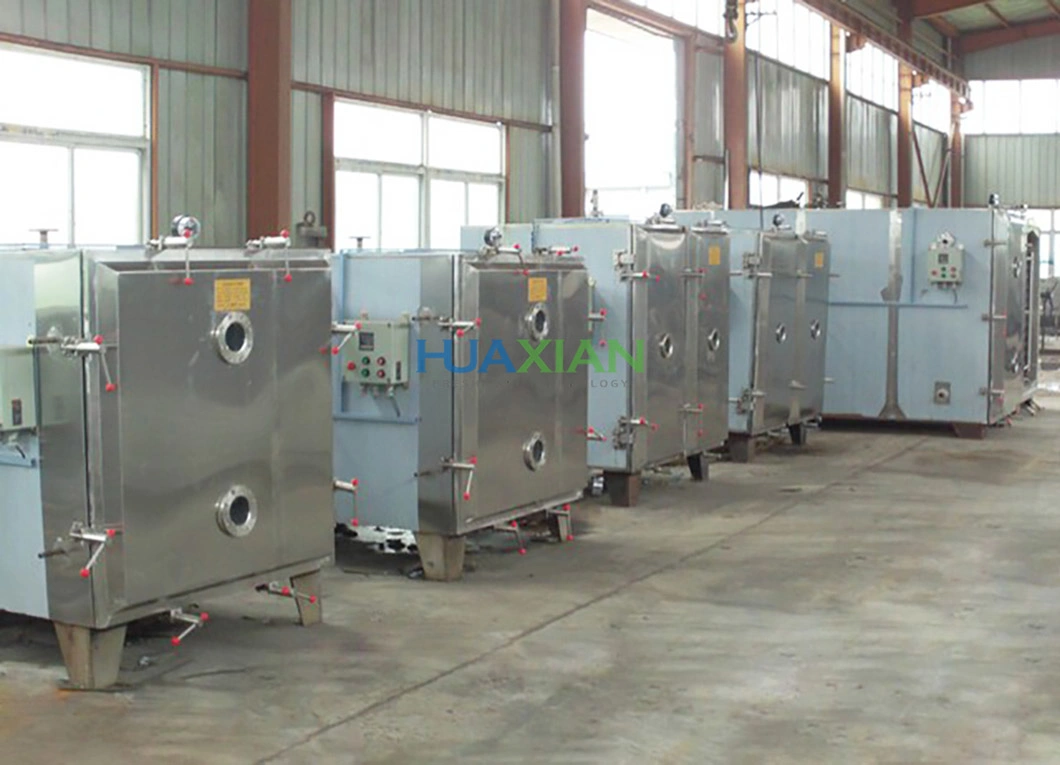 Testing of Vegetable/ Fruit Freeze Dryer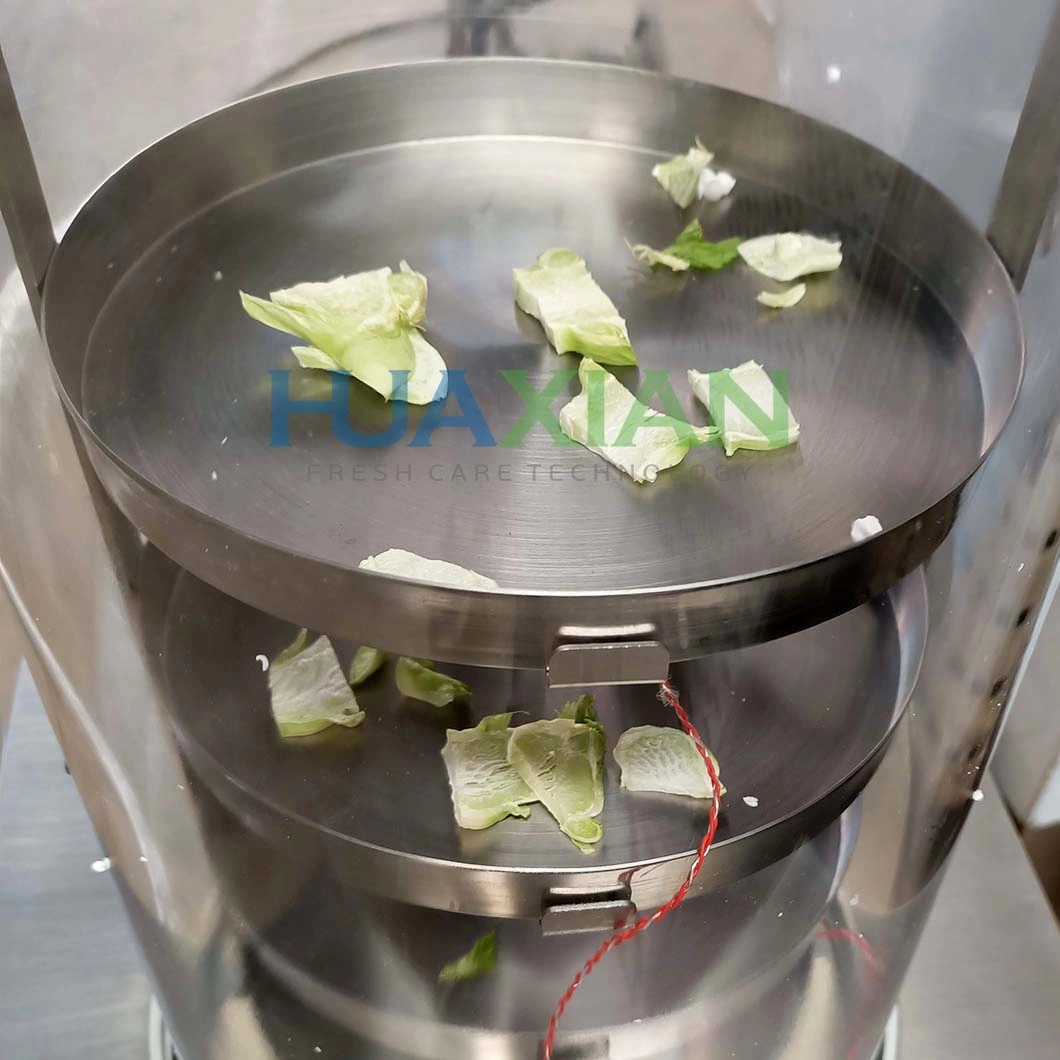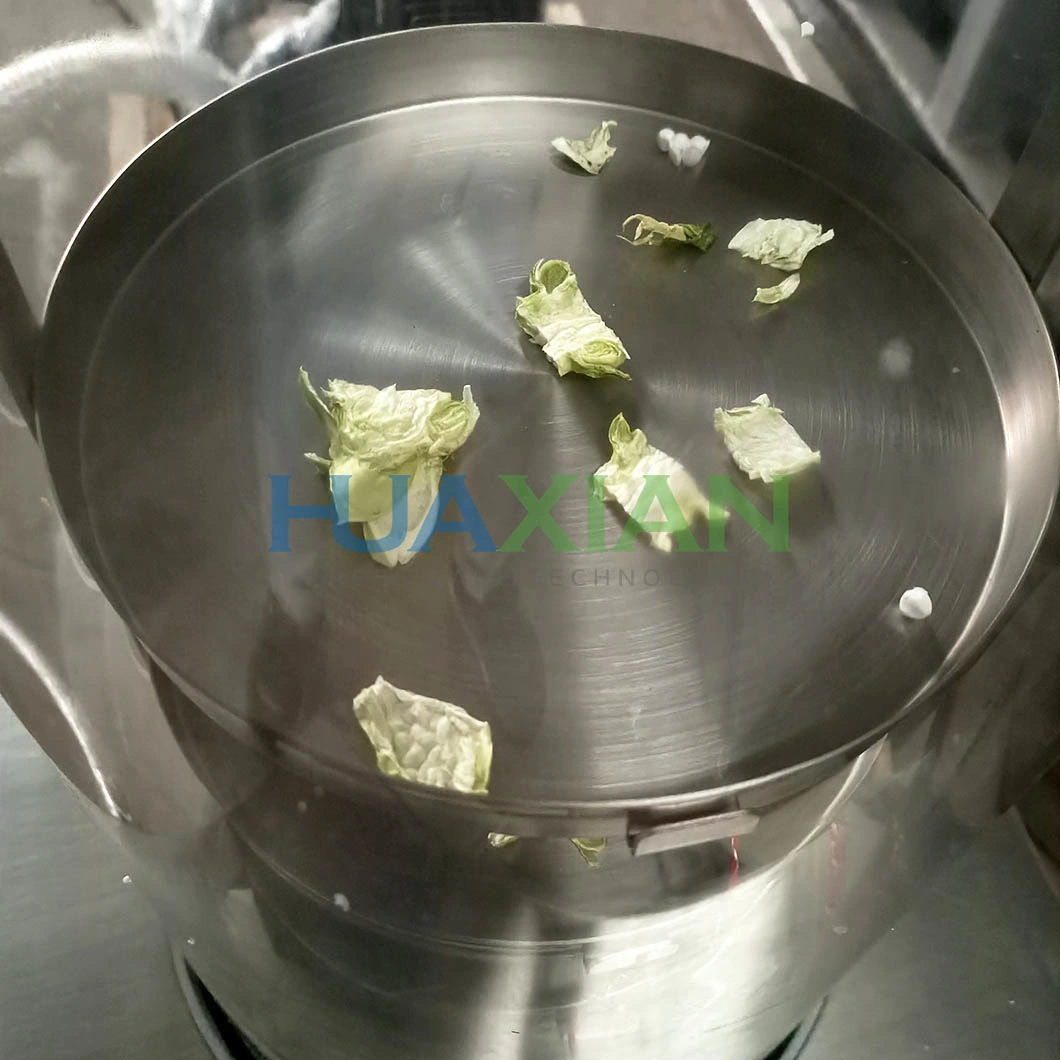 Huaxian Freez Dryer is with good performance for below products: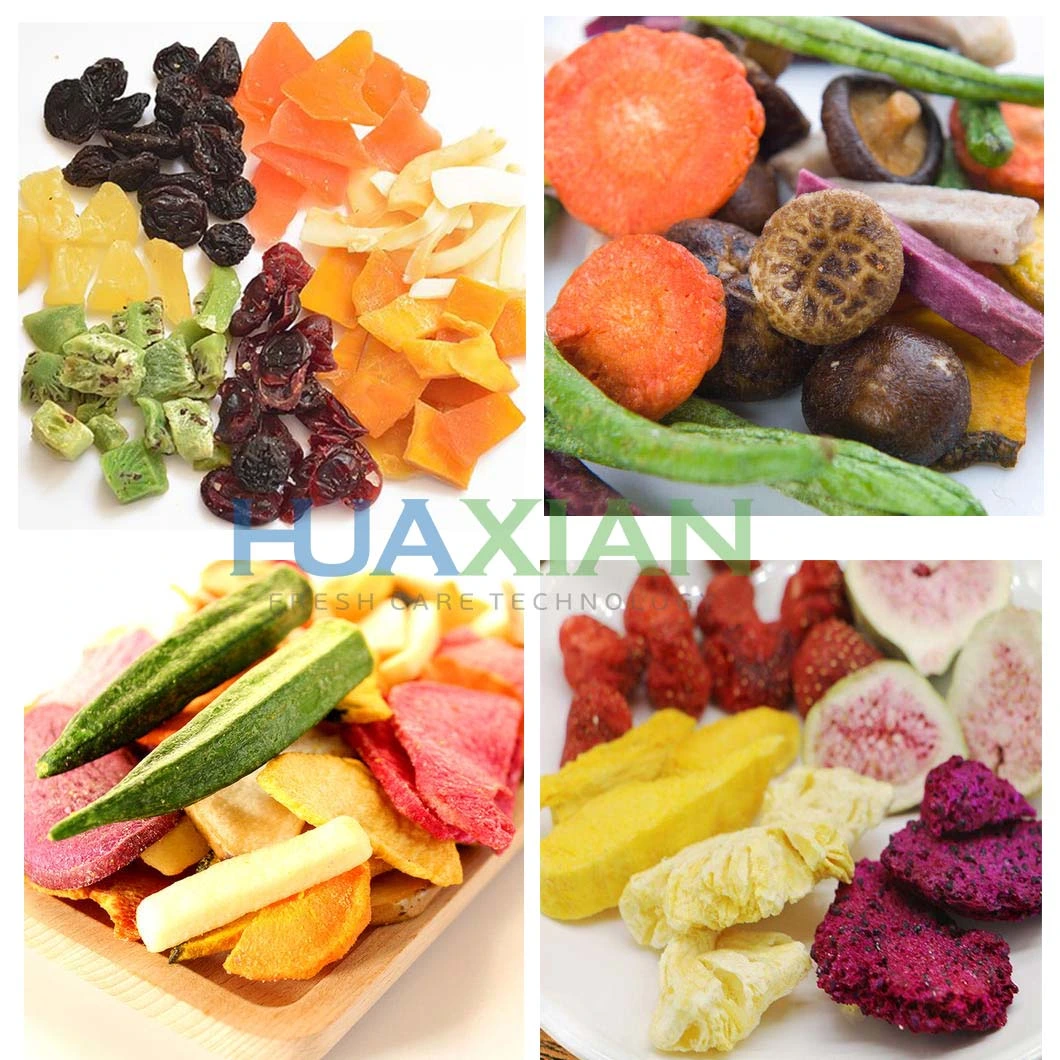 Company Profiles:
Huaxian produces vegetable vacuum cooler, cold storage room, hydro cooler, ice machine, freezing dryer since 2008.
In 2018, we focused on worldwide fresh care market and
Dongguan Huaxian Ltd.
was registered. In the same year, we were happy to open an office in USA.
Huaxian is engaged in fresh care by refrigeration and providing best fresh care solutions on food, meat, seafood, fruit, begetable by HUAXIAN quality refrigeration equipment and sophisticated technology, so as to maximum prolong shelf life and keep original freshness to create beneficial market values. Presently, our main market is in China, America, Europe, South East Asia and Australia. Gradually more and more customers lay trust on us and choose us for cooperation.
Energy saving is our constant persue as it is related with customer's investment yield rate. Our design proposal is fully based on energy saving and consumption reducing.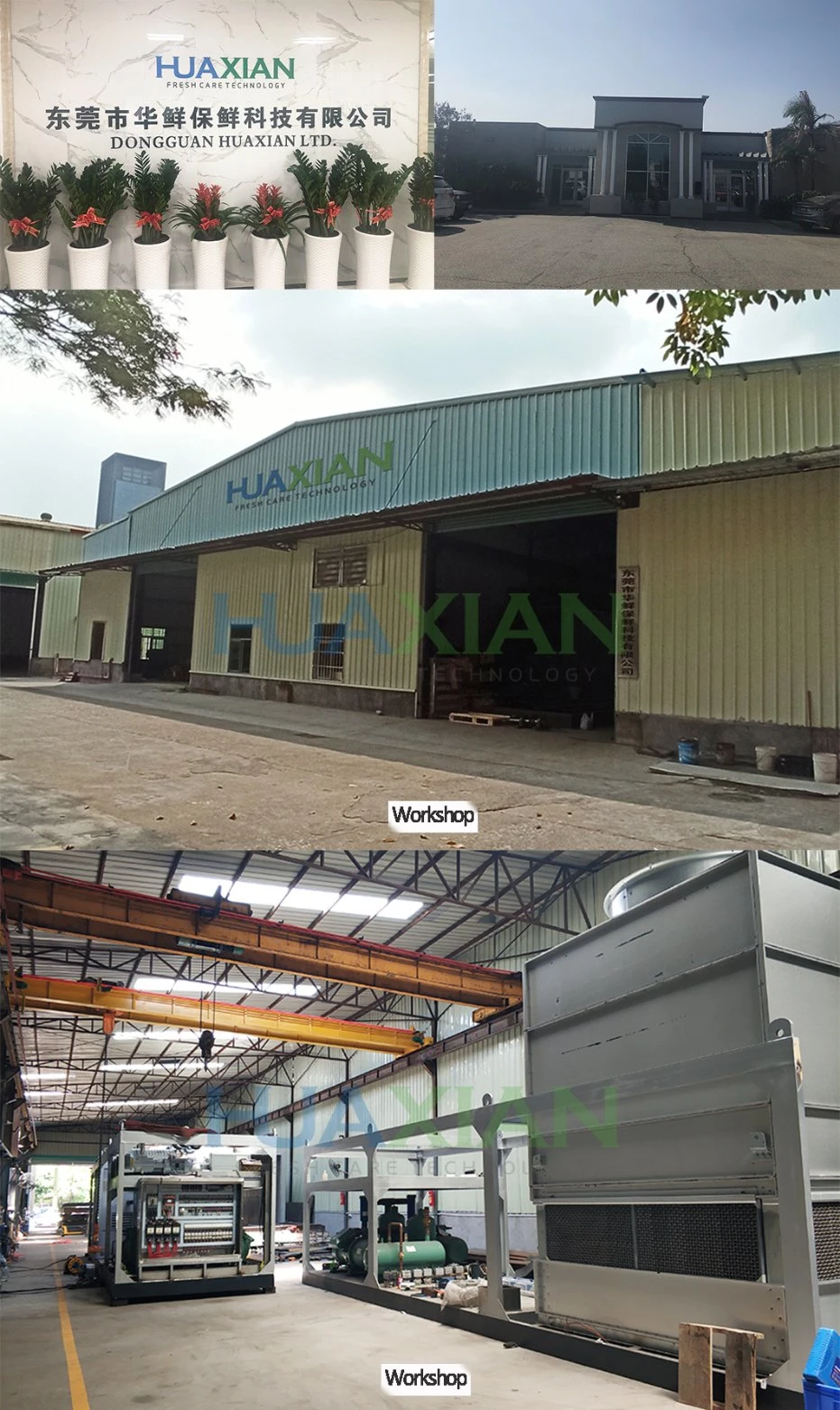 Guarantee

a. All Huaxian systems delivered to customers are carefully examined and tested, with 72 hours trouble-free trial operation;
b. All Huaxian systems delivered are plug-in ready and well piped;
c. All Huaxian systems enjoy 12 months guarantee ever since B/L date.


Technical Support

a. Huaxian provides full technical support and after equipment installation;
b. 7*24 hours phone assistance on technical support.
FAQ
1.What is the payment term?
TT, 30% deposit before production,70% balance before shipment.

2.What is the delivery time?
1~ 2 month after Huaxian receives payment.

3.What is the package?
Safety wrapping, or wood frame, etc.

4.How to install machines?
We will tell you how to install or send an engineer to install according to customer's requirement (negotiation installation cost).

5.Can customer customize capacity?
Yes, depend on customers' requirement.