(YZG/FZG) Vacuum Tray Dryer/ Vacuum Drying Machine/Vacuum Drying Oven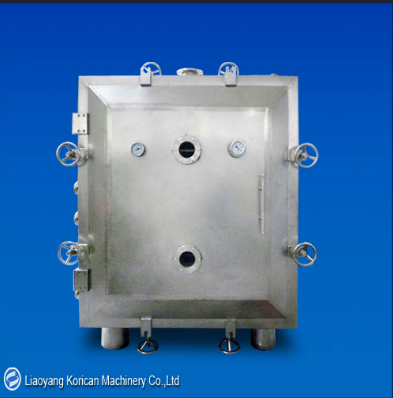 Summary
Vacuum dryer is to let the raw material be dried at vacuum condition heating and drying. It uses vacuum pump to damp and make the working chamber form vacuum status. Therefore the dry speed is quickened and the working efficiency is raised.
Features
1. The higher dry speed can be achieved at lower temperature and the heating can be
utilized fully.
2. Unstable or thermal sensitive raw materials can be dried at lower temperature.
3. Raw materials that contain solvent or the solvent to be recovered can be dried.
4. The treatment of disinfection can be implemented before drying. Any impurities can not be mixed into it during the period of drying.
5. The drier belongs to static vacuum one. Therefore the shape of raw material to be dried can not be damaged.
Application
It is suitable for drying raw materials of pharmaceutical industry, chemical industry, foodstuff industry, electronics industry, Chinese traditional medicine industry and so on.
Technical Parameters
Specification name
Model
YZG-600
YZG-800
YZG-1000
YZG-1400A
Inner size of drying chamber(mm)
Φ600x976
Φ800x1247
Φ1000x1527
Φ1400x2054
outer size of drying chamber(mm)
1135x810x1020
1700x1040 x1335
1693x1190 x1500
2386x1675 x1920
layers of drying support
4
4
6
8
interval(mm)
81
82
102
102
size of drying tray (mm)
310x600x45
460x640x45
500x410x45
460x640x45
quantity of drying tray
4
8
12
32
working pressure inside the pipe
of drying support(Mpa)
≤0.784
≤0.784
≤0.784
≤0.784
operation temperature of
drying support(ºC)
-35-150
-35-150
-35-150
-35-150
vacuum inside the chamber when
operation in idle(Pa)
1333(10)
1333
1333
1333
under the condition of -0.1MPa
and 110ºC,evaporation rate of water
(kg/m2h)
7.2
7.2
7.2
7.2
when condenser is not used, model,
and power of vacuum pump(kw)
2x-15 2KW
2x-30A 3KW
2x-30A 3KW
2x-70A 5.5KW
when condenser is not used, model,
and power of vacuum pump(kw)
SZ-24KW
SK-3 5.5KW
SK-3 5.5KW
SK-3 5.5KW
Weight(kg)
250
600
800
1400